1. What is TutorPage?
2. How TutorPage works?
2.1. Feature 1. Build a personal website for your tutoring business
2.2. Feature 2. Manage students /monitor statistic
2.3. Feature 3. Manage your calendar as an online booking schedule
2.4. Feature 4. Manage your bookings and have lessons/enter classroom
2.5. Feature 5. Leave after-class feedback to students
What is TutorPage?

TutorPage is a tutor management software for individual independent tutors and companies with multiple tutors. It is an all-inclusive website integrated with various tools, and the whole process is super simple and works smoothly.
You can find all functions you need on this website.
You can build your own tutoring website,

Collect international payments from students,

Open time slots for students to book your lessons,

Manage students, monitor, and track students' attendance and study progress,

Teach online through integrated classroom applications such as Zoom and Classin and other popular ones.
Everything can be done with a few clicks. In simple words, this is an all-in-one system/platform.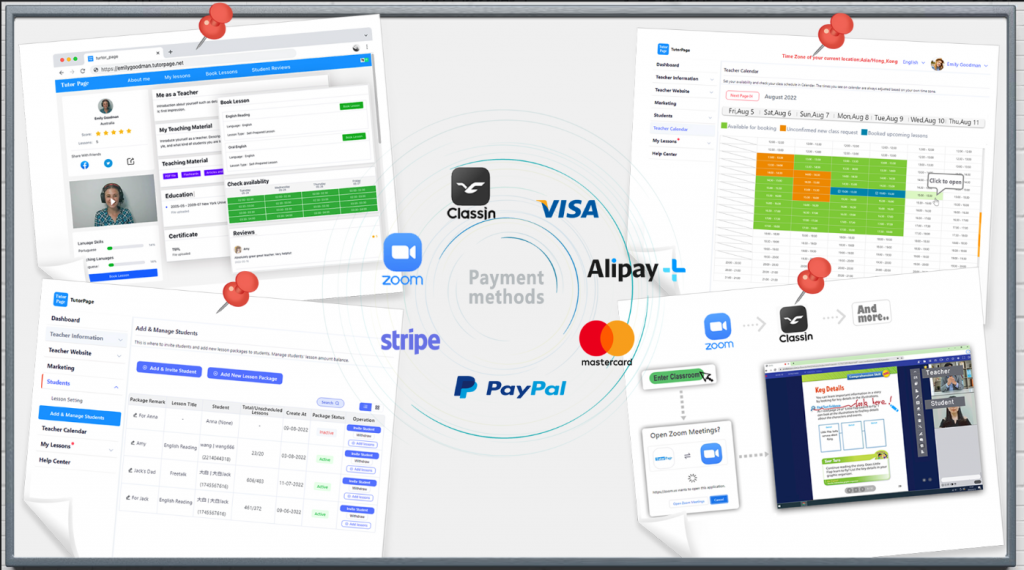 How TutorPage works?


Feature 1. Build a personal website for your tutoring business
There is a website-creating function on TutorPage, it is important to have a professional business website to attract potential clients and create a professional operating environment for your current students.
You can use TutorPage to build a website to display your profile and post your courses. As a private tutor, when you run your own tutoring business, a professional website is very important to show yourself as a trustworthy tutor. You can just fill in some information on the page and build a website like this.
This is how a teacher website looks like. The domain name is customized, it could be remembered by your students easily.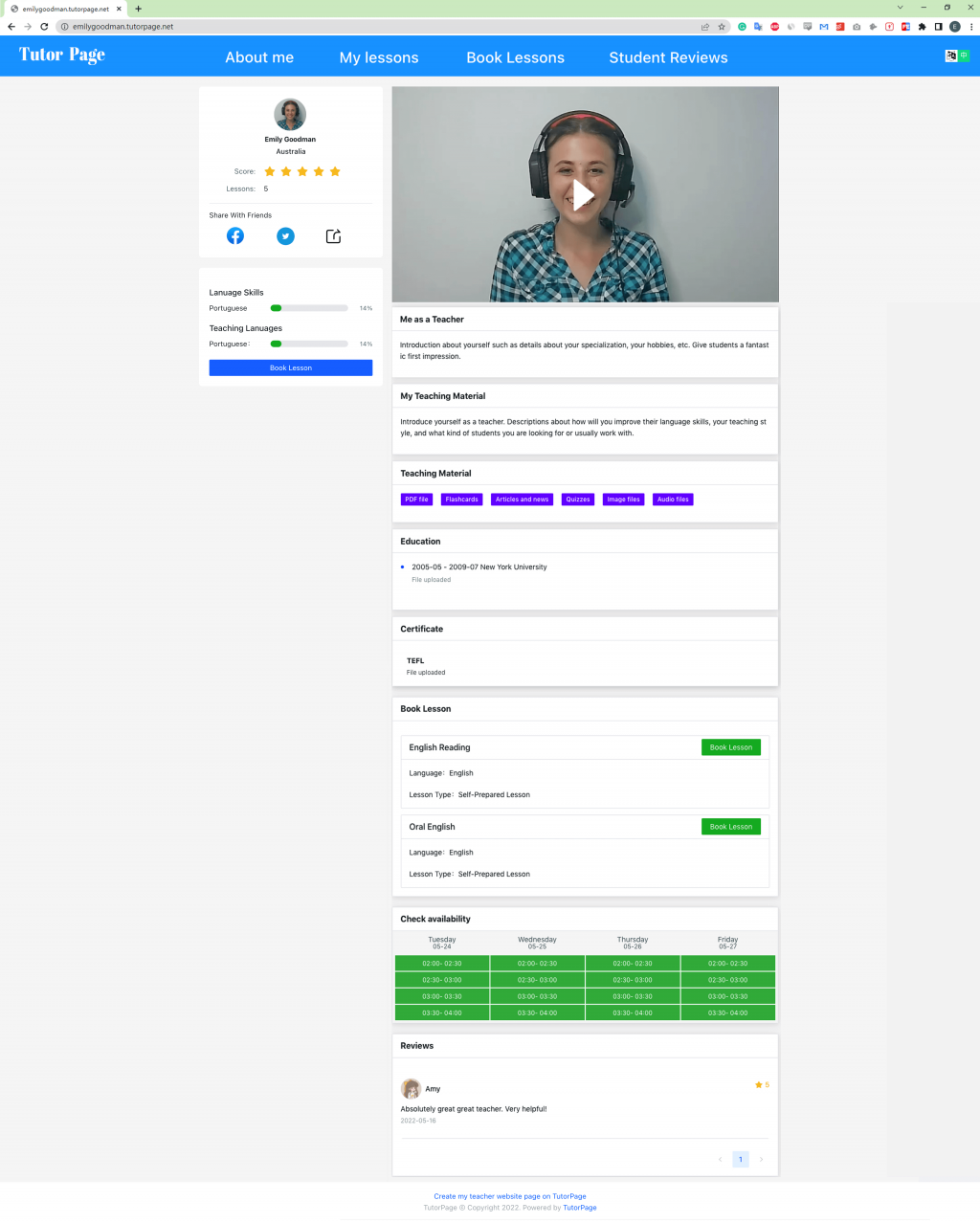 What is included on this website?
1. It shows your uploaded demo video/Personal introduction video. Students can watch it.
2. It shows your teaching experience, work experience, and education. Where show your professionalism and credibility.
3. Your own tutor website that can be shared with your students so they can book your lessons.
4. Your page also displays the courses that you designed and posted. Students can see what courses you're selling. And book lesson is the most important function. If you use the payment function, students can pay based on the price you set for each class.
5. It shows your current students' reviews. So others can know you better. And your potential clients can see them as well.
If you ask your current students or others to refer you to their friends, you can just ask them to share your website. Everything about you is on one page. With this website, you build your own personal branding. It is also a landing page for your tutoring business.

Feature 2. Manage students /monitor statistic

There is a complete and clear lesson data record on TutorPage. Over here, under Add & Manage Students, you can clearly see the balances of students' lessons such as how many classes a student had with you and how many are remaining in their balances.
The student can directly book your lessons in the system when there are available unscheduled lessons in his lesson package balance. Tracking data such as total added and unscheduled lessons makes the lesson management progress much easier for both student and teacher.
You can add more or decrease the number of unscheduled lessons from here. This is super convenient when you manage your student's remaining lessons.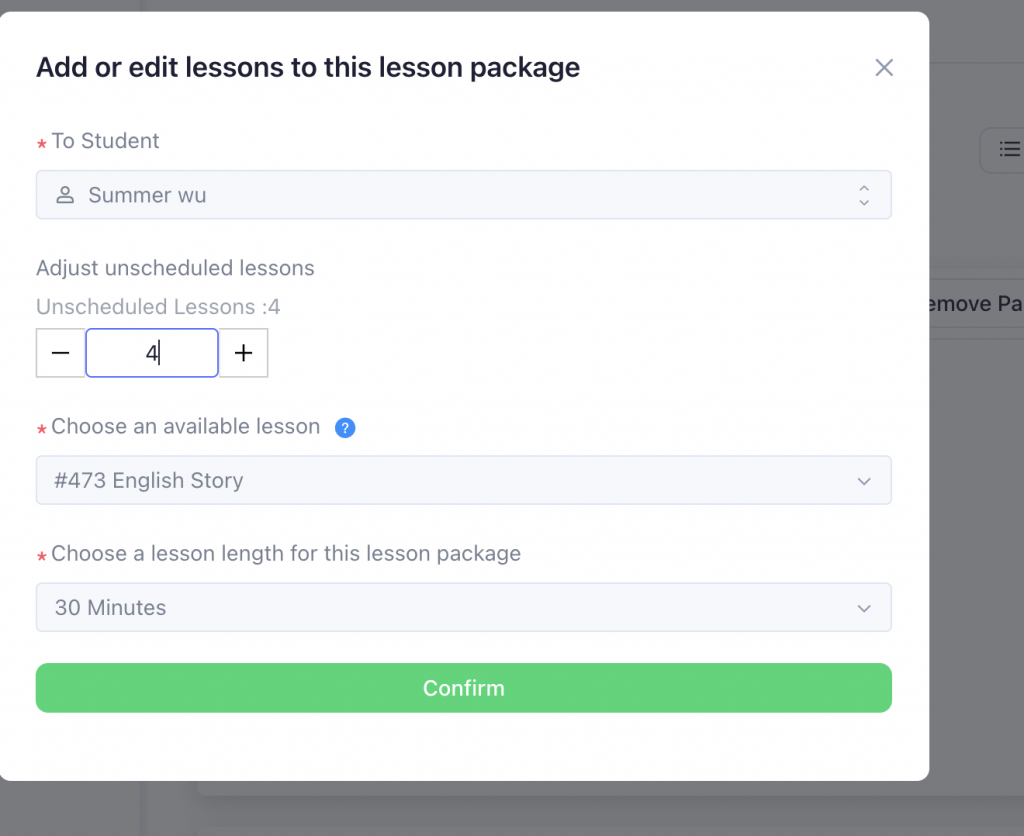 You'll also see a complete record of the student's overall lesson package progress and purchase history.
You can track in real-time when the student should renew his lesson package, encourage him to buy more lessons if his balance runs out, and analyze purchase behavior of clients.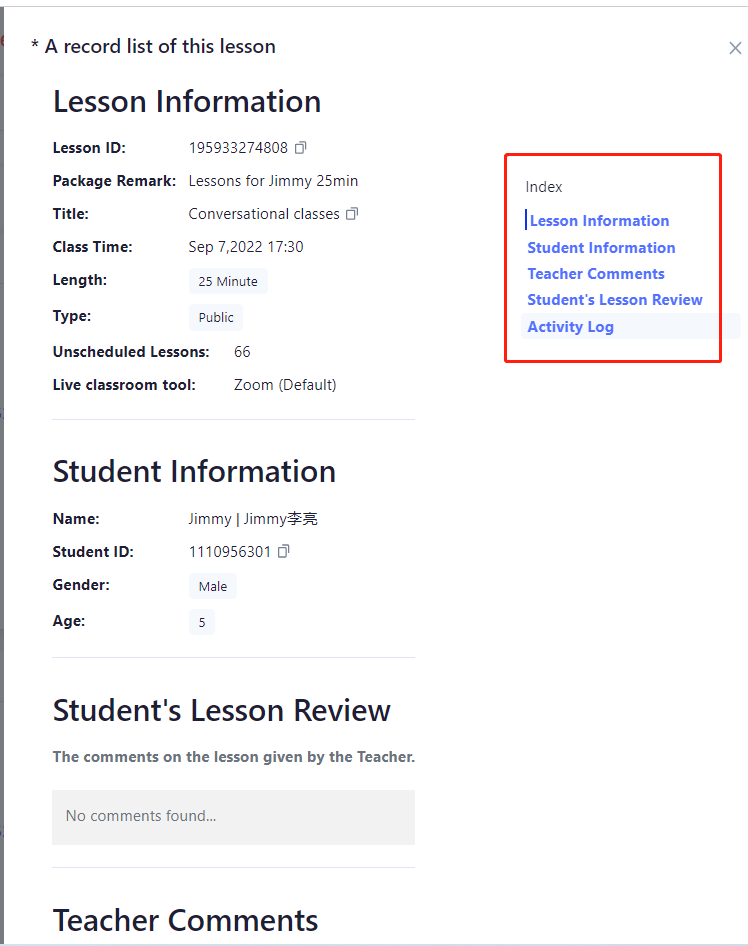 Students can also review their lesson records and progress as easily as you do. Teachers don't have to check how many classes have been finished with students every day, TutorPage shows the same complete record as a report to students, which helps avoiding misunderstanding or arguing about how many lessons were completed. The records are transparent to both tutor and student.
Feature 3. Manage your calendar on online booking schedule
On TutorPage, you can simply open your available time slots on a calendar. And these will be shown to all of your students publicly. To open this time slot, just click open and click close to turn off the slots.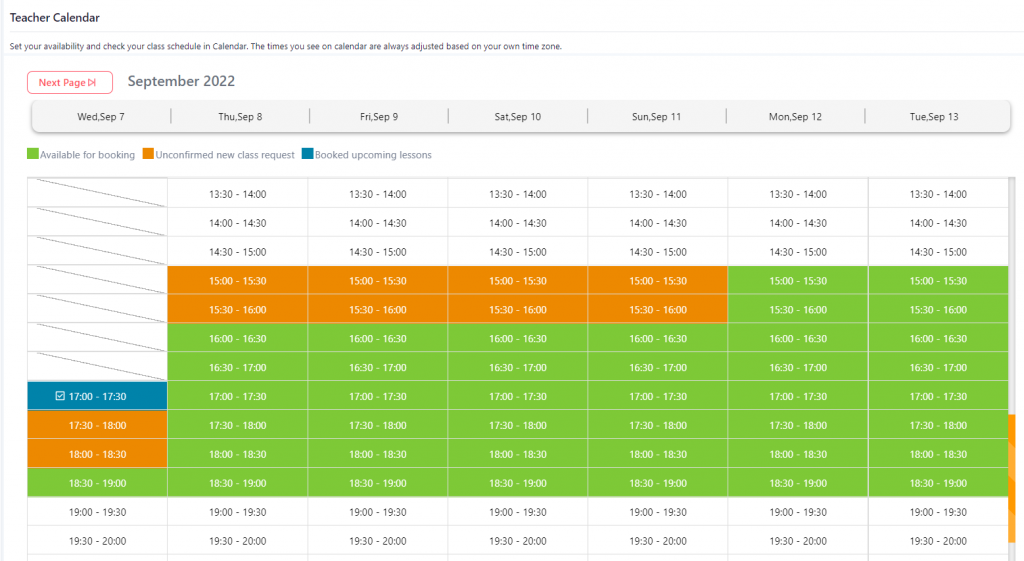 After you have opened these time slots, your student can log in to their student's account and start to book. He will see all the opened slots, and select and submit bookings. When the student done the booking, the system will deduct one lesson from the remaining lessons in his lesson package balance.
This system can also coordinate the time difference between tutors and students. The time you see in the system is based on the time zone you set here. It shows local time on the Students' dashboard as well. So you don't need to calculate the time difference anymore. TutorPage helps you calculate and avoid mistakes.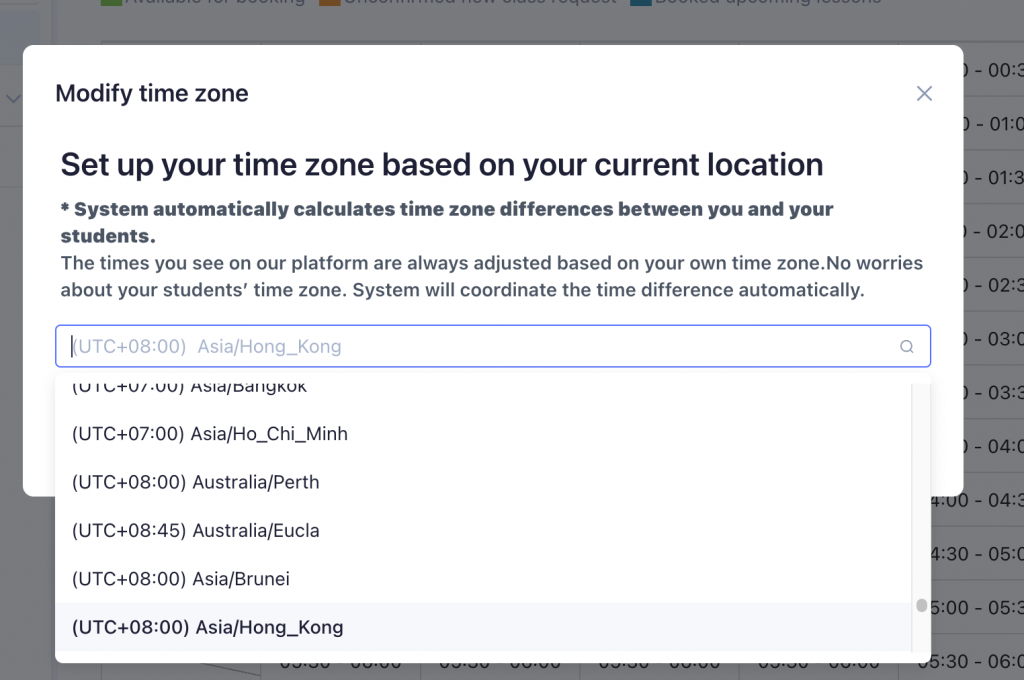 Feature 4. Manage your bookings and have lessons/enter classroom


TutorPage has a very considerable function. That is you decide whether your students' new class requests need to be confirmed by you or not. This function helps you to avoid missing unexpected bookings. However, it's up to you whether to use it or not.
When a student books a lesson, you will receive a notification of this new class request and you can choose to accept it or reject it. It means even though you opened this time slot, you might find later you have something else to do and you can't have lessons at that time, you can still choose not to accept it. Just click reject the booking, or leave it to expire. The system will remind both you and your student that this booking is rejected, and your student can go back to the system and book a new one.
However, if you accept this booking, then this lesson will be confirmed as a booked lesson.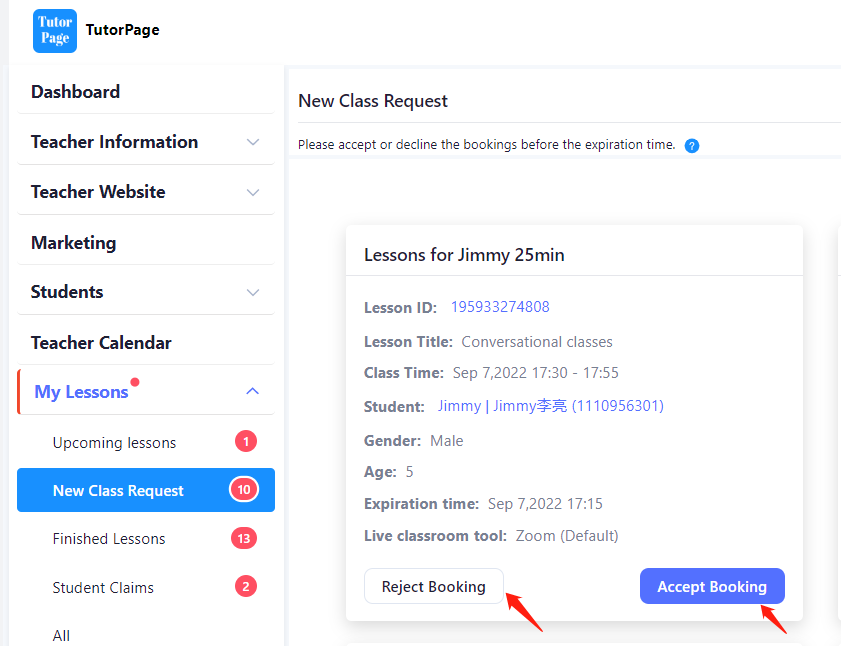 For those accepted bookings, they will be considered as booked and confirmed lessons, then you can review them all in the list of upcoming lessons in real-time. As a teacher, you can cancel it if you have emergencies and cannot attend it.
Students can cancel or reschedule another time flexibly in Upcoming lessons as well. This saves a lot of communication time regarding cancellations or rescheduling.
You are able to upload your teaching material from here for each upcoming lesson so that your students can download the uploaded learning materials anytime.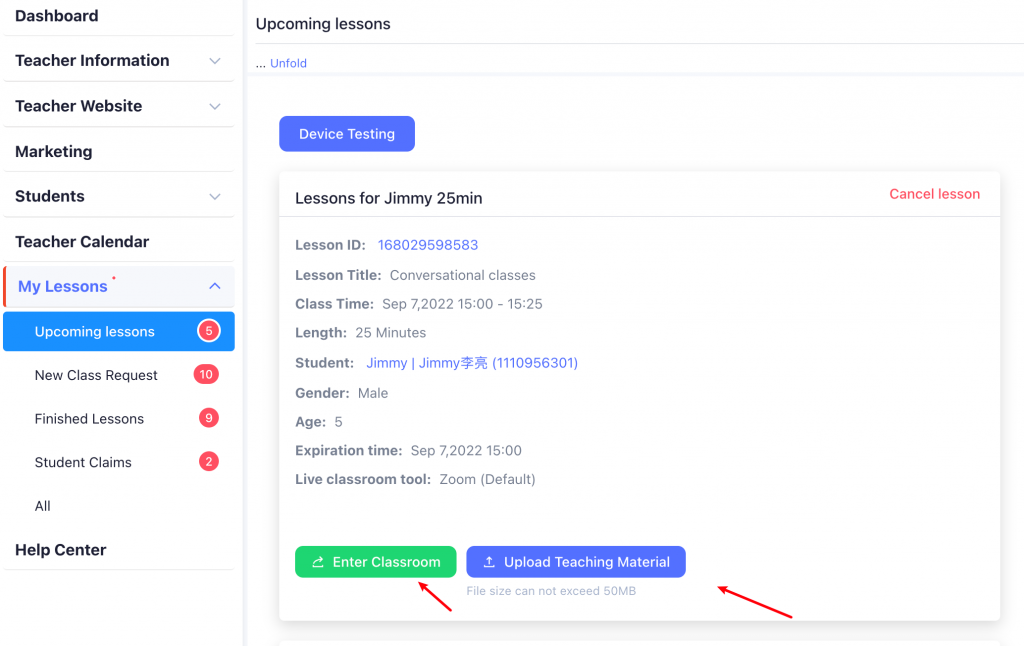 You can see this student selects ( Zoom as the classroom tool). When it's time for the lesson, you can click <Enter Classroom> to Enter Classroom, the system will take you to the classroom directly.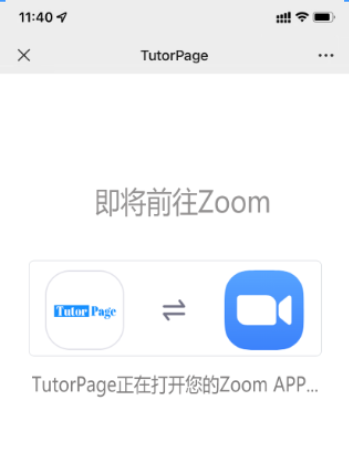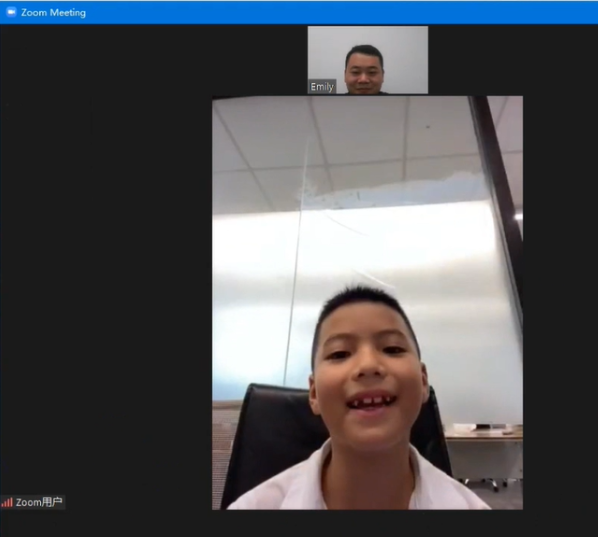 This is how an integrated classroom works. You or your student click Enter classroom, then the system will take you to the Zoom classroom. This function saves a lot of time because you don't need to create a Zoom classroom manually, or share the classroom link with students.
By the way, zoom is just one of the classroom options. more integrated classrooms are coming soon. If the classroom tool is external, it's not integrated, but TutorPage will remind both you and your student to have lessons through that tool.
Feature 5. Leave after-class feedback to students
After finishing the class, you can find it from Finished Lessons. You decide by yourself if this class is completed or not.
For example, if the class was over, but you and your student didn't really attend the class. Both of you can report a problem in the system. 
As a teacher, you can click Not complete to report a problem. Then click here to select a type of Lesson Problem and the option of Problem Solution you want.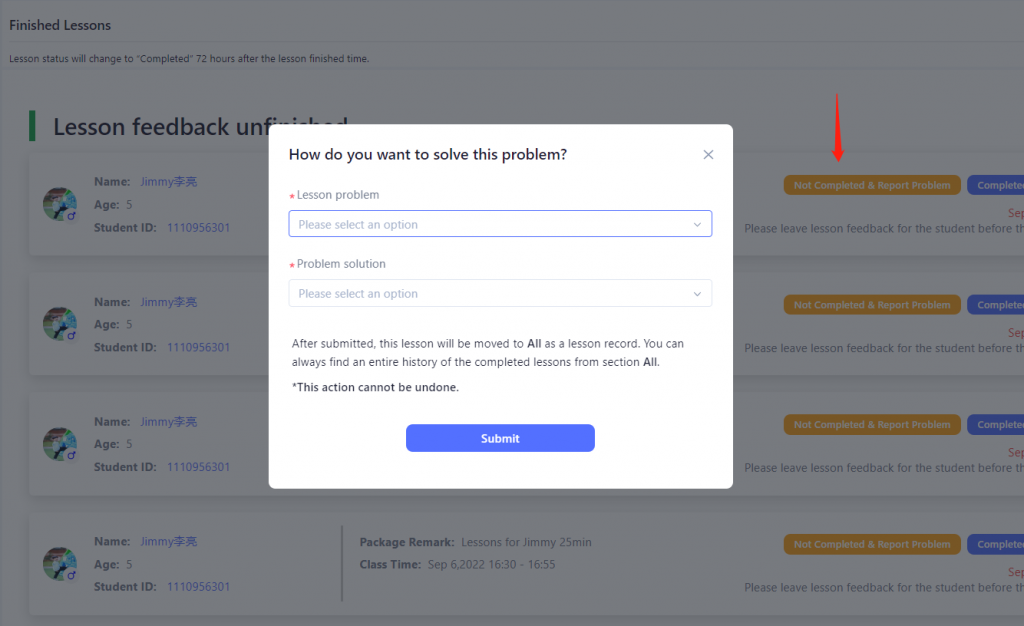 For example, if I didn't attend this lesson, I could select from "Lesson Problem" meaning that The teacher didn't attend this lesson,
For Problem Solution, I would like to return this lesson to the student.
Then this lesson will be returned to the student by the solution I selected.
If you didn't click these two buttons, the lessons status will automatically turn Completed 72 hours after the lesson finishing time. Or you can click complete and mark it as completed then leave feedback.
You can leave lesson feedback to the student after clicking lesson complete on the above tab is a preset template. Click those tags to add some content. For example, add pronunciation, weakness, or any aspects of study performance. For Jimmy's pronunciation, he's pronunciation is very good! His weakness is shy to talk.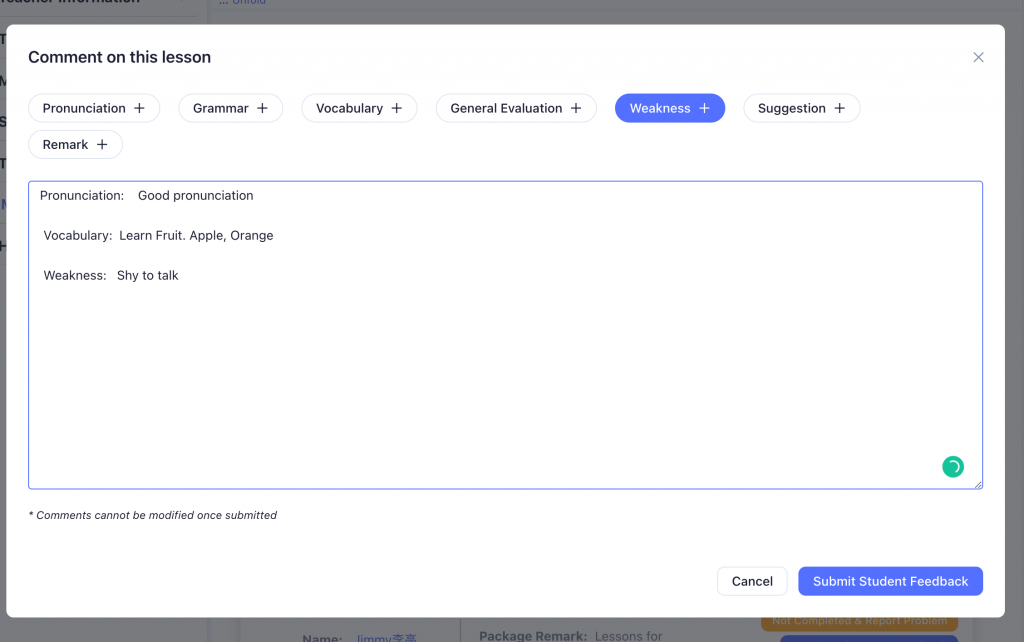 This feedback can also be saved as a note to yourself. With this note, you'll understand better what to teach in the next class. And you can always review a full record of the student's learning progress of this lesson.
Above is the main concept and examples of how teachers on TutorPage work. There are more relevant articles to help you understand more, how to use TutorPage and how to run your individual tutoring business.
Relevant Article