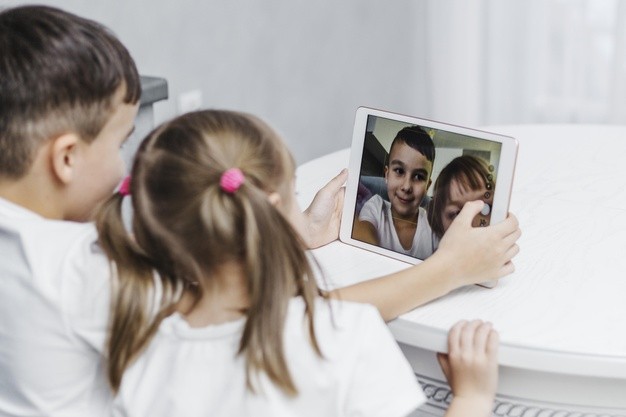 Have lens phobia? Feeling anxious about teaching students online in front of the camera?
If you also have this symptom, please read on. I will introduce you some useful tips helping you build camera confidence when teaching online. Believe me, you will change from being embarrassed to smiling face to your students and give them a wonderful English lesson through the webcam.
Invest in your webcam
Some teachers (especially those who very care about their personal image) will be worried that they will look strange in the lens. Therefore, try not to use the built-in webcam on your laptop since it usually makes you look unconscious (may be skin condition looks so poor). Buying a high-quality webcam will make you look better for it is able to capture the light and reflect the real you. Doing some research about different kinds of webcams and pick one that suits you most.
Practice your presentation
Practice makes perfect. Use the video recording software to record the real scene of you giving students online classes. Re-watch the video file after class to check whether you are looking directly into the camera and making eye contact with the students, whether you appear flustered or careless during class and so on.
If you can't make judgement about yourself, invite your friends to join your class or video chat and let them tell you whether the distance from the camera is appropriate and whether you look natural on the screen.
Based on your own analysis results or critical feedback from friends, adjust the angle of the camera, the light in the room, and even your appearance. When you know everything is fine, you will be more confident than before.
Do Preparation in advance
Don't just turn on the camera and appear on the screen directly until class time. Usually unprepared teachers will appear to be frantic and make students feel that they haven't settled down yet. You'd better enter the online classroom in advance, adjust the camera and your position, make sure you are in the middle of the screen and looking directly at the camera. In this way, when your students enter the classroom, you will not worry about there may be something wrong with your image.
Write a script for your lesson
Write a script about welcome, self-introduction and course plan in advance and try to remember it. Make adjustments according to the student's grade and ability so that this material can be reused for you. You can also write them on paper and stick them on your desk or wall (make sure you can see them clearly), so that you won't panic when your brain is short-circuited and you just don't know what to say. It will be your strongest backup.
Don't forget that you are an excellent teacher wherever you are. Master some professional skills to make yourself look confident, so that the Internet is no longer your trouble but your assistant. The lens has never been as scary as you image.
Believe in yourself, there is nothing difficult in online teaching.
Check here to find out other tips for managing classrom