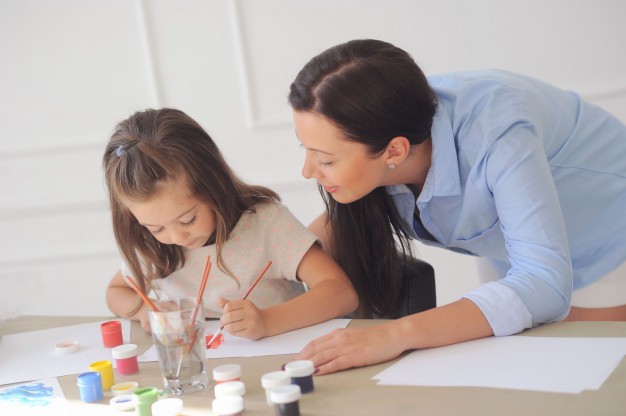 Passing the online interview is the most important step for you to become an online English teacher. Browse the web and you can find obvious hints and skills, but there are also those that confuse you.
It is TeacherRecord's mission and responsibility to help the interviewing teacher get a job successfully.
Now! We will give you some tips and work out a list of potential interview questions.
Follow it! And get the job!
Things you must do!
1. Always prepare
Think about the questions the interviewer will ask and find the most appropriate and professional answer. Opportunities are for those who are prepared!
It is unreliable to think about some questions on the spot because most of the time those so-called answers are imaginable.
2.

Try and test your

 demo

before the interview

.
Most online companies ask you to present your demo class in interviews, and they will send you the detailed information in advance, such as the subject of the course.
Maybe the content of the interview will be very simple, but you must realize how competitive the market is! Thousands of English teachers are competing with you for the same position. So, all you can do is to make a preparation before the interview. Plan the content for the course, and think about how to explain the words that the students might not understand, and so on.
Also, the best way to familiarize yourself with the lesson is to practice several times (like speaking in front of the mirror).
If you are having an interview with 31ABC, you will probably be asked to conduct a demo class in the interview process. Check here for 31ABC available positions.
3.

P

rofessionally

 d

ress

ed
When you stay at home, you may lie on the couch all day in your pajamas.
However, during the interview, try to look neat and energetic, such as shaving, combing your hair, and changing into formal clothes, because it will make you look more professional and reliable!
4. Go above and beyond
Don't just do the basics when you are asked to give a teaching demo. Try to use some props or visual aids to make your performance more professional.
In addition, if someone asks you about your evaluation of your presentation, remember to mention the teaching methods and props you have used as specifically as possible, and tell them that you have done your best to achieve it and got good results.
Remember, don't criticize your performance by saying what you didn't do!
5. Read interview instructions carefully
Don't bother with the long email sent to you by the company before the interview, they just want to give you more information so that you can better prepare your demo and become a good teacher!
Don't just skip read, read carefully to make sure you don't miss any useful information!
6.

Get to k

now your tech specs
They may ask you for specific information about your device. This may sound strange, but good equipment is essential for online teaching. So, get to know your ISP (Internet Service provider), Lan Speed (computer working speed), device specifications (laptops come in a variety of shapes, sizes, and functions-specific), as well as the Windows operating system.
7.

P

ut your phone on mute

 or p

ower

 it

off
As we all know, nowadays people keep checking their mobile phones all the time!
However, putting your phone on mute or turning off your phone can make you more focused on the interview and prevent impolite behavior during the interview, such as interrupted by phone calls.
8.

C

onduct the interview

 in a quite room
It is necessary to turn off your phone, close the door, and create a quiet environment for your interview. Think about it. If a recruiter suddenly heard a strange sound coming from his headphones, would you still make a good impression on them?
9. Hav

e

proper lighting
Find a bright room, adjust the lens, and try the video mode in advance to make sure that your face can be seen clearly on the screen. You know, some good teachers are rejected because of poor quality videos and dark environment.
10. Use the device you plan to teach on
The device you use determines what students would see. Therefore, asking about equipment specifications is a question that recruiters are bound to ask.
Therefore, you should specify the functions of the selected device and let them know that everything is working properly.
If you have technical problems, don't tell them and reschedule it later.
11.

M

ake sure all your equipment is working
Ask your family or friends to help you test your call quality in advance. For example, using Skype to make a call and ask them to give feedback to make sure there is nothing wrong with your connection.
At the same time, you should first learn the functions of this software to avoid letting recruiters think you are a technical idiot.
12.

Prepare

proper headphones and a microphone
A good pair of headphones is a must, which helps you eliminate the background noise so that your words can be heard clearly. In this era of highly developed technology, a high-quality headset won't cost you a lot of money. Just have one!
13. Be prepared to teach an ESL student in your demo
Even if you are presenting your presentation in front of a group of experienced adults, keep in mind that, in fact, you will teach for the target audience!
For example, if you take an English class for a group of 3-to 5-year-olds, you can say, "do you understand?" even if it is a very simple word, to show that you are concerning their learning process all the time.
14. Use visuals, hand gestures, and TPR methods in your demo
As a professional ESL teacher, don't be shy about adding some creativity to your course. Don't be afraid, it's also a way to prove your ability.
15. Beware the backward whiteboard!
Please check the whiteboard appearance if you are going to step on it.
See if the camera is flipped correctly to avoid the letters flipping backward.
16. Show you care!
A passionate teacher with a smile on his face is what most online interviewers are looking for.
How to show your clear desire for education and your real concern for your students? You can ask the interviewer thoughtful questions, such as the type of students and the number of teachers.
Now you know how to prepare for  your interview, check here for advice about how to prepare for the demo