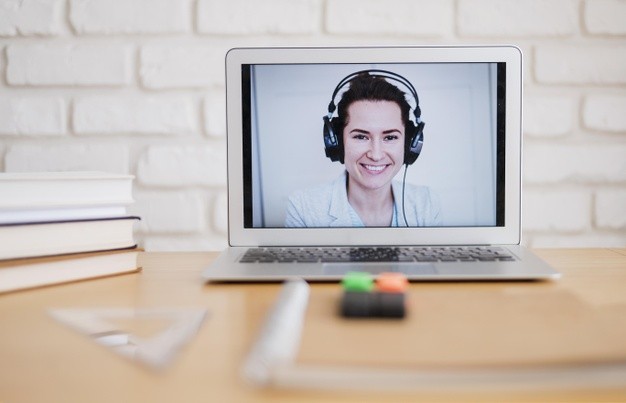 Nowadays, with the development of globalization, an increasing number of students are learning English as a second language. Therefore, there is a huge and potential market for ESL teachers worldwide, especially in China. In this article, we will share about online teaching, TEFL certification, teaching & living in China, and visa-related information in detail.
English language training (ELT) market size in China in 2017 and 2022(in billion U.S. dollars)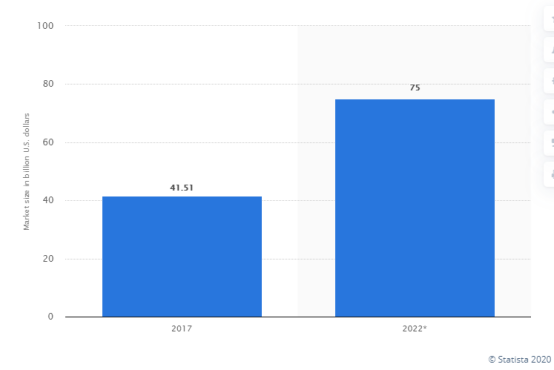 From Statista 2020
Online English teaching
Many teachers are considering being an ESL teacher, but they are not sure how and what requirements are to be an online English teacher. Normally, as long as you have a bachelor's degree or above, and a teaching certificate, and then you can start your ESL teaching career. Some companies may require teaching experience, but it depends on different companies. In this section, we are going to share information about teaching English as a second language online from the following 5 areas:
1. Top 12 Chinese Companies to Teach English Online
2. 5 Online English Teaching Jobs Without Experience
3. 5 Steps to Become An Online English Teacher
4. How to complete your resume?
5. 7 Tips to Nail Online English Teaching Interview
In China, many companies are actively looking for a large number of English teacher candidates to help them fill vacant positions. A high-paying new job opportunity (and travel adventure) is approaching you.
Top 12 Chinese Companies to Teach English Online
1. DaDaABC
DaDaABC is found in April 2013 and based in Shanghai, China. DaDaABC is an online one-on-one English education platform for Chinese children between 4 to 16 years old. DadaABC's hourly salary is about $ 20, but depending on the bonus, you can earn up to $ 25 or as low as $ 15.
2. First Leap
First Leap English, established in Beijing in 2008, is flourishing and expanding across China. First Leap was created to provide much-needed quality after-school English training for children aged 1.5 – 15 years old. The hourly rate is about $21.
3. Lime English
Lime English is an online English teaching company based in Beijing, China. They focused on improving students reading and writing skills in particular. The students are mostly children from 5-12 years old. They offer flexible scheduling and pay $16–$25 USD per hour with bonuses.
4. 31abc
31abc is an innovative English teaching company that is established in Shanghai, China.Their students mostly are from 4-12 years old and class sizes are small from 1 to 3 students. 31ABC pays a base rate of $20 USD per hour.
5. Talk915
Talk915 was established in 2012. They are looking for native English or have a neutral native accent English teachers. The students are from 3-18 years old. And they pay $5-8 per 25mins class.
..............
To find out the left 8 top online English teaching companies, check the top companies to teach English online.
Are you worried about not being able to find an online job because of the lack of teaching experience? Actually, there are many online English teaching companies hiring online teachers without teaching experience. 
5 Online English Teaching Jobs Without Experience
1. Cambly
At Cambly, you will conduct one-on-one lessons and help English learners around the world to improve their language skills through brief conversations.
No teaching certificate, bachelor's degree or prior teaching experience needed,you are allowed to start tutoring students from all over the world at any time based on your schedule without minimum hours. you can make $10.20 per hour on Cambly and $12.00 per hour for Cambly Kids via Paypal every Monday.
2. VIPKid
Based in Beijing, VIPKID connects Chinese children with North American teachers. VIPKID offers one-on-one tutoring for Chinese students, while they will provide all the teaching materials. If you get their offer successfully, you will get paid $14 to $22 USD per hour based on the interview.
3. Palfish
Palfish is an online English education company based in Beijing, Chinese. It has its own interactive app for lessons to be delivered on compatible iOS/Android phones or tablets. The average hourly rate is about $10 to $18.
..........
For more companies don't require teaching experience, check it here to find out to teach English online without experience.
Wondering how to become an online English teacher? No matter if you have just started your career, lost your job, or you want to change careers, or you are looking for a part-time job.
5 Steps to Become An Online English Teacher
1. Get a Teaching Certificate
Even if you have a degree in education, taking TEFL/TESOL courses is still a better choice for you. Yes, you can find a job without any teaching certificate. But it would be more difficult and you are not being competitive. Especially if you are looking for Chinese companies, then you must have a teaching certificate which is stipulated by Chinese law.
2. Organize your paperwork
Update your resume, making sure to highlight any experience or skills you may have that are useful in teaching. Certify your degree and make sure you have a digital copy of the certificates and ID. For more detailed information about how to prepare and complete your resume, you can find it in the following section.
3. Do your research
Do you want to teach teenagers or are you more willing to teach adults? Do you want to teach general English or academic English or business English? Do you want to teach a few hours a week? You need to figure out these questions before you make applications. Once you have considered these issues, do some research online to find some companies that suit your needs.
4. Start your application
Just like any other job search, now you need to apply for as many different teaching jobs as possible. It may take a while to find the right position for you, but any demo you need to do can be done comfortably in your own home, which makes the application and interview process very easy!
5. Teaching
By now, you should have all the equipment you need to teach English online. Once you get an offer from a teaching company and you have organized all the equipment and resources you need, you are ready to teach and change the world with a big smile!
Now we've known some top online English teaching companies which don't require teaching experience and the steps about how to how to become an ESL teacher. It is time to prepare an impressive resume for online ESL job opportunities. Actually, the interviewer does not have enough time to read your resume carefully, therefore, an attractive resume is necessary for an job interview invitation.
How to complete your resume?
A complete, simple, and clear resume can always attract the attention of the Employer at the first sight. Try your best to leave a good impression on him and get the interview invitation when he reads your resume.
Be precise for educational background, teaching certificate, relevant teaching experience, and skills which are the most important parts the employers care most about. To make it very clear about the educational background and teaching certificate. Emphasize on your relevant teaching experience and skills and try to make it as impressive as possible especially when you have experiences of teaching English in China.
If you are invited to upload a video or mock video, pay attention to your teaching environment, the decoration, and lighting. It will be better if you have some items like cards, animals. What you need to introduce in the video is to make the video within 5 mins and focus on your teaching experience which is one of the most important qualifications they are seeking in ESL teachers.
After you successfully attract the attention of the employer with a great resume, you will get the interview invitation. When you are in the interview process, you are approaching the offer. But with the competitiveness of the ESL market, how can you outperform yourself and outrank other interviewees?
7 Tips to Nail Online English Teaching Interview
1. Do an interview on your laptop.
The first thing you need to do is to prepare a laptop for an interview. Noted that all the interviews are suggested with a laptop, instead of a tablet and phone. And it would be better if you choose to do this interview online at home. In this way, you can take the interview in a quiet environment which helps to ensure a good communication atmosphere.
2. Check your laptop.
What is very important is that you need to make sure your laptop is working properly and download a "Chrome" browser on your desktop and remember to update it to the latest version. Many teachers failed the interview because they cannot connect with the interviewer due to the browser. It takes more than 10 mins or half an hour to download to update the browser, but the interviewer is already impatient. You might lose your opportunities in this step without preparing for it properly.
3. Test Your Internet Connection
The main difference between office work and online work is that your work is highly dependent on the speed of your Internet connection. Without a solid connection, you will not be able to conduct an interview or deliver a clear quality course. A poor Internet connection may leave a negative impression on the recruiter during the interview.
4.  Prepare for a nice self-introduction
Self-introduction seems to be an inevitable part of the interview process. We have seen that many applicants who have prepared for their self-introduction earlier did a better performance than those who didn't and they can better attract the interests of the interviewers and make connections with them. Focus on your previous teaching experience, if you have worked for some big companies like VIPkid, DaDaABC, or Gogokid, make sure that you tell the interviewers about these experiences. It would give you extra bonus.
Besides the 4 tips above, there are three more tips for online English interview preparation, find out more tips for online English teaching opportunities.
Start Your Online Teaching Career
In the previous section, we shared the required skills from preparing resumes to interviewing from an interviewer's perspective. In this section, we want to share how to look at and deal with all the things that happen in daily work from the school's perspective. And the things that should be paid attention to when you just start your teaching online.
Generally, after teachers accept the offer and start to prepare for online teaching, companies will arrange for some online training for teachers about the guidance for system, rules of online teaching, equipment requirement, and policies. Some companies maybe don't have a complete training system, and you might be required to read a training profile and then take a test about what you have learned. Pay attention to every point and question in the training profile, cause they are actually very important.
There might be some problems or conflicts during your teaching process. We would like to provide some tips for you to avoid or prevent potential problems.
9 Tips for you to nail potential problems:
1. Is there any email or message notification when a student book your class? It is very important to be aware of this point, which may prevent you from missing the newly booked classes while you are not familiar with the procedures at the beginning.
2. When will your timetable or time slots be open for booking? It gives you a clear idea of how you could balance your work and life and when you are able to check your booked class schedule. If you are clear about this point, then you can avoid missing any booked class and you have enough time to make personal arrangements.
3. How do you cancel a booked class?
3.1 When can you cancel the booked lesson? (For some companies, they stipulate that teachers are not allowed to cancel their lesson within 24 hours, otherwise, it will be marked as an absence which may result in a penalty)
3.2 If there is an app for some companies, how can you cancel your lesson? Will you cancel your lesson on the app or contact customer service, or cancel it on their website?
3.3 How can you cancel your lesson if I am in an emergency? Who should you contact and how can you cancel your lesson? What is the contact information and evidence you need to provide?
..........
For more tips, please read the article: tips for online English teaching problems
If you have found out the above potential issues at the very beginning, it will save you much effort. When you are taking the ESL classes, sometimes, it is inevitable to encounter some emergency cases which may lead to absence or you might need to ask for leave. Here are some tips for you to avoid most of the emergency problems. The first tip would be preparing a mobile phone with a data cellular. Since some teachers were not able to take the class due to the breakdown of the network. It is suggested to prepare a mobile phone with cellular data to prevent such things from happening on you. Next what you need is to pay attention to your open time slots while you are on leave. It might sound unreasonable, because you have already asked for leave, there won't be any class during your leave. But some companies or schools only close or turn off your booked class in your leave interval, but they don't turn off your open time slots which means that some students might book your class during this period, but you thought you had asked for leave, and you don't take the class, then you are marked as an absence. It did happen before, therefore, make sure that your booked classes are turned off and your open time slots will be closed too during your leave interval. Another tip is to ask for leave in advance and pay attention to the time difference.
Sometimes, teachers might be late for class or leave early. But it might lead to penalties and complaints from students and parents, which might have a negative influence on your assessment and review profile.
4 Tips to avoid being late and leaving early in the class
1. To find out whether the time on your laptop is the same as the system time, in many cases when you find that your personal time difference is different from the school system time, which causes absence.
2. To enter the class in advance is an effective way to avoid being late. Because sometimes the system or network problems might cause you unable to enter the class on time. But normally there are many reasons for failure to take the class on time. It is very difficult to prove that this is a technical problem or personal issues. Therefore, it is a good way to avoid this situation by entering the class in advance. If you really encounter such a situation, remember to take a screenshot in time and keep the current screenshot with time when it happened. This method is useful for the absence caused by such incidents.
3. To prevent being late for class due to the tardiness of the previous class is to cancel the class in the middle. Otherwise, it can be consecutive for a day, and then you might be late for all the following consecutive classes. The record for the lateness of each class is not good, which is likely to lead to admin supervision or student complaints.
4.Try to avoid leaving class early even you have finished your class content. In fact, in the current online schools, parents are very sensitive about leaving early, even students can understand that the class is finished, but the parents are very alert and they might think they pay for a 25-minute class and their kids only have the class for 19 mins and they might think you are not a good teacher since you don't know how to give more information about what students have learned. Therefore, It is suggested for teachers to take a full 25 mins class for what parents paid for. If the class is finished, try to chat with students and get to know about them to make sure the whole class lasts for 25 mins.
TEFL Certification:
What are TEFL, TESOL, CELTA certificates?
The full name of TEFL is "Teaching English as a Foreign Language". In countries where the mother tongue is not English, the certificate for teachers who teach English as a foreign language is called "TEFL English Teacher Qualification Certification".
TESOL, Teaching English to Speakers of Other Languages, is commonly known as "Foreign English Education". It aims to train professional teachers who teach non-native English speakers, analyze English teaching curricula and develop curriculum design through learning and mastering the language habits and logical thinking modes of people from English-speaking countries, and obtain the real TESOL teachers' qualification in the process of continuous learning and speaking, which attaches equal importance to both theory and practice. Besides, it also studies the nature of language (physiological imagination/psychological imagination/physical imagination), the problems encountered in the application of language to native speakers and language learners, and how to teach, learn and evaluate the first and second languages in experimental and real environments.
CELTA, Certificate in English Language Teaching to Adults, is a teacher certificate from University of Cambridge, UK. CELTA's entry requirements are relatively high in language, generally requiring native English speakers or those with a language level close to that of native English speakers.
For those with little or no teaching experience, CELTA is the first qualification certification to enter the field of English teaching. CELTA certificate belongs to the advanced category of TESOL certificate system. It is not only a teacher's certificate suitable for teaching adults English, but also an integral part of British Continuing Education Teaching Certificate and TESOL International English Teacher's Certificate.
Then, what is an accredited TEFL course?
TEFL certification is a form of quality assurance. An external organization has proposed a set of standards which they think TEFL providers should follow in order to provide high-quality training programs. Providers apply for the organization's approval and are then evaluated by the agency.
Why is TEFL accreditation important?
You can learn about how the training center and you can benefit from having a reputable and high-quality certification for your program.
1. It ensures that the quality training you receive meets the standards of the certification body.
2. Certification may increase the recognition and trust of your TEFL certificate in the job search. Most employers will only consider applicants who meet certain minimum standards for TEFL certification. For example, many employers require a course length of at least 100 hours and at least six hours of observation teaching practice.
3. You can think of accreditation as a form of protection. This is also a protection for your future employers who need to know that they are hiring teachers with high-quality training. Meanwhile, this is also a protection for your students who have a right to expect their English trainers of good quality.
How to Get an Accredited TEFL Certificate for Free?
With so many TEFL courses on the market, it's hard to find a free certified TEFL course.
TeacherRecord (TR) ESL Association, a non-profit curriculum provider, offers 120 hours of certified TEFL lessons for free to help teachers get ESL jobs. In addition, TeacherRecord collaborates with more than 500 local companies and schools in China and has more than 1000 ESL positions on its Job Board that provides opportunities online and in China for teachers all around the world. Best of all, the TR TEFL certificate is one of the most recognized TEFL certificates to these companies and schools, thanks to their long-term close partnership with Teacher Record.
How many hours of TEFL do you need to teach abroad?
Most companies want to hire English teachers with internationally-recognized TEFL certifications with courses lasting more than 100 hours. Although this may vary from company to company, a hundred hours on a TEFL course usually includes both your class time (in person or online) and your personal study time. But a 120 hour of TEFL course is the most popular choice for ESL teachers.
How to choose an online TEFL certification that suits you most?
To choose a suitable TEFL course, you can follow the steps below:
1. Find a trusted course provider.
2. Check the online status of your course provider.
3. Ensure that TEFL certification is at least 100 hours.
4. Don't go for the cheapest TEFL certification
5. Do research on your course instructors
6. Read through the course curriculum
7. Decide if you want to practice
8. Consider creating specialized modules
9. Ask the TEFL course provider about past students
About living and teaching English as second language in China, people have different opinions. It has some advantages, but it has its disadvantages as well. For this section, it will cover both aspects. Based on a TEFL teacher who taught English in China before, she shared her opinion about her experience in China.
THE PROS & CONS of Teaching in China
Five Pros:
1.The cost of living is lower, but income is good
2.You will probably get a stable job
3.China is a good tourist base
4.Public transportation is great
5.There are many things to see and do with rich culture and delicious food
3 Cons:
1.Chinese culture is different, there might be culture conflict
2.Lack of free speech
3.Air pollution in some cities
China is different to other countries, especially in parents' attitudes toward education. In this section, there are 5 tips for you to consider before you decide to move to China.
5 Tips to Consider Before You Come to Teach in China
1.Adaptation is the Priority
2.Parents Have the Final Decision
3.Can You Sing or Dance?
4.THE HONEYMOON IS OVER
5.Intercultural communication
If you are ok with it, then you may start to apply for English teaching jobs in China. Now you are mentally prepared to teach English as a second language in China, you need to find out if you will get used to living in China physically. Since China is the third-largest country in this world, the weather, climate and food are quite different from cities to cities. It is better for you to get to know the cities before you start to apply for the positions in the cities you would like to work and live in.
The 8 Best Cities to Teach English in China
1.Beijing: Capital of China with more than 3,000 years of history
Population: 21.7 million  (basically 2.5 times bigger than NYC)