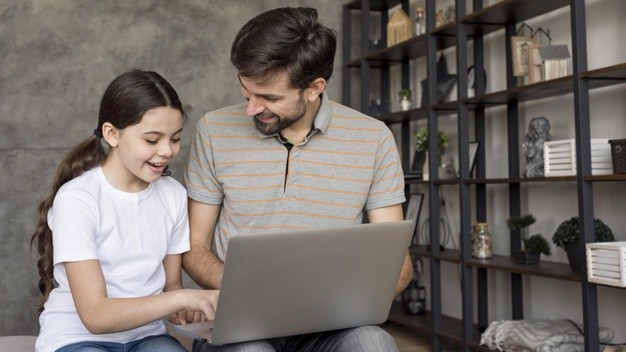 Even though online education has been continuously developed for several years, many people still have a lot of misunderstandings about it, so that some of them don't even have the courage to try it. I have been teaching Chinese children English online for more than 3 years, and I know this industry very well. Therefore, I decided to explain some typical misunderstandings/misconceptions about online education and show you what online education really looks like.
[Recommended Reading: THREE COMMON MISCONCEPTIONS ABOUT TEACHERS  ]
1. I need lots of teaching props and tools.
Absolutely not. Almost all of my teaching props are placed in a plastic box the size of a shoebox, a mini whiteboard, a few markers of different colors, a notebook, some flash cards, cartoon stickers and plush toys. Sometimes I also make some small props by hand, such as making a simple chef hat out of A4 paper, or using the applicable items in my apartment. These teaching props do not cost the teacher too much money to get, but also allow students to fully participate in classroom learning. For example, when we were talking about food and utensils, I would wear a chef's hat, move the class to my kitchen, pick up a cucumber, and tell my students that this is a "cucumber."
In addition to these teaching props, what an ESL teacher needs is a positive attitude and a sincere smile instead of fancy PowerPoint and complicated lesson plans.
2. You can't build a relationship with your students.
No! Whether a teacher can establish a good relationship with students depends on the teaching strategy rather than the specific location of the classroom. Take myself as an example. I am accustomed to conducting question-and-answer sessions before the beginning of the class. Specifically, the students and I will ask each other 3 questions and provide answers, such as "What is your favorite color?" "How is the weather today?" and "What is your unbearable vegetable?". I usually use notebooks to record students' hobbies and daily life, such as "Lily will participate in children's drawing competition next Saturday." and "John will go swimming with his parents on the beach this Sunday."
These simple questions not only allow students to practice their language skills, but also help build a stronger teacher-student relationship.
3. The online lesson is extremely boring.
Of course not! Even if some classroom activities cannot be carried out in the virtual one, teachers can still adjust them to adapt to online teaching. For example, use slides to show students a set of related pictures, send them a virtual blackboard, and let them write stories on them and share it one by one. Another important thing is that teachers should apply different teaching methods in the different classroom according to students' hobbies, abilities and learning needs. For example, when you show students a picture of a panda, you can ask the lower grade students to tell you the spelling and pronunciation of the word "panda"; but for the upper grade students, you can ask them to use pandas to make a sentence, find the word "panda" in the song, or even let them describe the life habits of pandas.
As an online English teacher, you need to pass on your enthusiasm and energy to the students so that they can learn happily with you.
Online English teaching is a good job for all teachers and other people who intend to invest in the education industry. It is not complicated, difficult and boring. In fact, using some correct teaching methods and strategies, you can reap the smiles of your students. Just do it now!
You may check if it is worthy it to teach English online here.