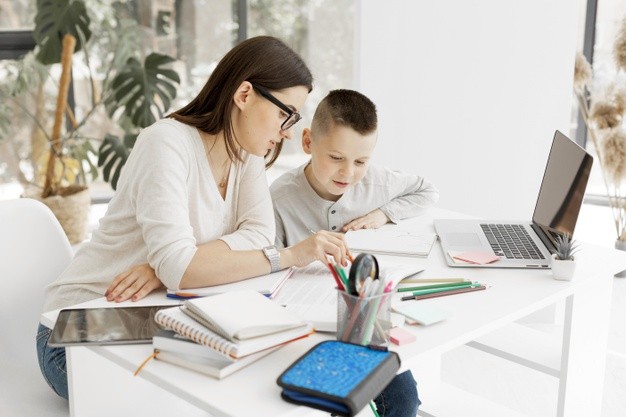 Due to various social isolation measures, online education has received more and more attention. More and more young learners register at home because online teaching only needs to work at home to get paid well. At the same time, the demand for online teachers is growing, and job opportunities are everywhere. Of course, there are many curiosities about how online teachers work? Luckily we have Manuela and Katie, they are both online English teachers for Chinese students, and are willing to share their teaching experience with us and answer our questions, which will make it easier for new teachers to put in new jobs as an online English teacher.
6 useful tips for beginners teaching Chinese students online:
1.  Patience is the most important for teaching children. It is difficult for a three-year-old child to sit still or understand what we are doing. But he can feel our impatience, which will only make everything worse.
2. Let students learn words through games instead of simply practicing them.
3. Students who are easily distracted may need you to use the timer on your mobile phone to help them.
4. Don't neglect self-care because of work. Don't let yourself be exhausted, arrange some time to rest.
5. Income is not all that this job gives you. Building a good relationship with students contributes to mental health.
6. Have fun in your class. Showing your personality will make you more attractive and will leave a deep impression on students.
How has teaching online changed since the COVID-19 pandemic started and are you busier than usual?
Manuela: The children cannot return to school due to the virus, which also means that I am busier than usual because bookings almost fill up my schedule.
No longer teaching business English courses for adult ESL learners made me lose a lot of income, so I managed to open more time slots to make more money to make up the loss.
The good news is that due to COVID-19, the online ESL industry has developed rapidly. hence, more online teachers are hired and more students are registered at the same time.
Katie: During the COVID-19 pandemic, I am encouraged as an online teacher.
I have also received sincere greetings and concerns from my students and their parents.
Teaching children from another country gave me such a special thought.
During the coronavirus outbreak, Qkids was open for several months of extracurricular hours, and I took this opportunity even though it made me busier than usual.
I am also grateful to spend this busy and fulfilling time with my students and family.
What are the biggest challenges as an online teacher?
Manuela: Language barriers are the biggest challenge for online teaching. People are always used to express themselves in their first language, especially children. It is easy for children to put on a frustrated face when we do not understand what they are saying.
At the same time, language barriers make it more difficult for us to manage students with bad manners, so I have started to learn Mandarin to solve this problem.
In the long run, the next challenge is the timetable. Due to the differences between different time zones, we sometimes have to work from early morning to late at night. Hence, we must learn to take care of ourselves properly to avoid physical damage caused by long working hours, such as chronic fatigue.
Katie: In my opinion, technical issues is the biggest challenge online ESL teaching facing, such as network connections. Fortunately, such network errors rarely occur, and even if they do, they are usually easy to fix immediately.
How does online compare to teaching in-class?
Manuela: Teaching business English online to ESL adult learners is very different from offline classroom teaching. Explaining concepts in class is easier than online because the tools I need are by my side.
I don't need to prepare any materials for my online work because the platform will provide courseware for me. All I need to do is give a little more time to my students.
But I have to prepare teaching materials for my offline class on my own.
Katie: Online teaching is very different from traditional classroom teaching. Online teaching seems to be able to combine performance and teaching to make the course very lively.
Although I still am passionate about in-class teaching, I do prefer my online ESL class!
What is your favorite thing about being a teacher?
Manuela: I have a relationship with all the students and their families. It is exciting to know that my students are always at ease when they stay with me because they know that they can express themselves freely, even if they are making mistakes.
In addition, I am very happy that I have the ability to make the student smile again even if he was depressed that day. The bright smile on the student's face is nothing compared to it.
Katie: Knowing my students is my favorite thing to do as a teacher! Through the process of getting to know a new family, I am able to learn about knowledge in different fields. The similarity between my own life and student life always makes me feel that the whole world is like a global village. 
Conclusion
To be a great online teacher for your students need teaching tips as well as a TEFL certificate. Just tips but no certificates? Open our website and take our online TEFL certification courses, then you will get one that will give you a good job as an online English teacher! Just start it?