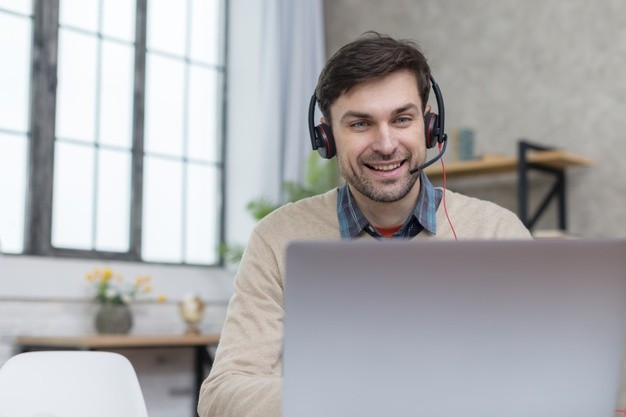 "I have been thinking about teaching overseas, but I can't leave my country for some reasons, so I decided to find an online teaching job overseas." If you are in this situation and start applying for online jobs, you will have an online interview next. You need some skills to get it done. Take Skype as an example.
[ Recommended Reading: 7 Tips to Nail Online English Teaching Interview ]
Online information:You'd better use your real profile photo and name, and upload real and valid personal information can make you look professional and reliable.  
(Tip: It is especially recommended that you apply for an independent account that is only used for work.)
Background: Don't make your interview background look messy, such as the tableware you used yesterday is still on the table or some dirty clothes scattered on the sofa. Make sure you have a neat and clean background so that the interviewer can focus on you but not your stuff!
Technical Preparedness:Test your webcam and microphone in advance to make sure they are working properly.
(Tip: If you have never used Skype before, try to invite your family or friends to practice with you to make sure you can use all the functions of the software correctly.)
Acting Naturally:Try not to be too nervous and anxious (take a deep breath) and stay natural in front of the camera (imagine yourself just chatting with a good friend). Don't forget to keep eye contact with the interviewer through the webcam.
(Tip: Try to let yourself look at the camera directly as much as possible instead of staring at the screen all the time.)
Be patient:Sometimes you will suddenly lose sight of the interviewer or hear no voice due to network failures or software program problems. Don't panic! Calm down, check your network connection, restart Skype, and wait patiently.
Flexibility:Choosing an online teaching job overseas means that you and your interviewer are likely to be in different time zones, that is, your interview may be in the early morning. It is recommended that you communicate with the liaison before the interview, and find out the most suitable interview time for both sides.
(Tip: Never be late.)
You may check this complete guide to online interview tips