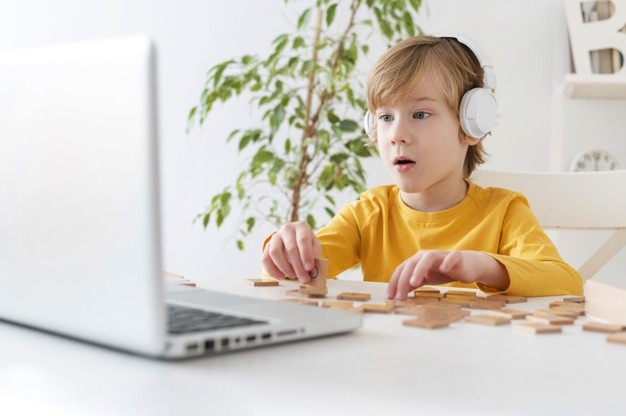 Many people enjoy online English teaching jobs for almost the same reason: work from home and arrange your time freely. That's why more ESL teachers are taking part this growing field, and the opportunities for online teacher recruitment are steadily growing as well. We will provide you with some frequently questions and answers to help you get started with online English teaching. If you are interested, please read on.
What does it mean to teach English online from home?
Who is teaching online?
Online English teaching jobs are an attractive option for many different people. Some are just looking to earn some extra money after their "day job," working from the comfort of their couch in the evenings or on weekends, while others are digital nomads, funding their world travels with a portable online income.
Teaching English online has attracted people from all walks of life. Some simply want to earn extra money when they complete their daily work, as well as make full use of their spare nights or weekends; while those who are called "digital nomads", using online income to fund their world travel.
Who are online English students?
For students who are not able to attend offline courses because of the location or limited budget virtual classrooms are undoubtedly a best choice for them.
Lots of online students are young children or teenagers for they can have online classes when school is over or vocation comes. Asian countries always pay more attention on English learning, and one of important reason why so many online education companies are widely based there.
In addition, adults like people already have a job and just free at nights or weekends is another group of students who tend to taking online English courses. Highly-disciplined and independent students are more suitable for this type of learning as well. For students who have a very organized schedule, virtual classrooms are ideal.
How does teaching online work? What types of online teaching jobs are there?
You can choose the one suits you best from a variety of online teaching jobs according to your preferences and goals. About the forms of teaching, working with an online English tutoring company is the most common one. Besides, it's also fine to market yourself through an online English tutoring market or be a freelance online English teacher.
Choosing to work for an online language company or institutes is a beginning for a majority of new online ESL teachers because they will assign students, manage courses to teachers and even organize the teaching process for the new comers. a certain amount of time is often required by some companies but you can decide how long to work for most of the time.
Market yourself on online teacher marketplace
Also, you can post classes or courses on an online tutoring marketplace, and what this marketplace do for you is offer a platform for the contracts and payment transactions between you and students. Teaching fee and hours depend on yourself. It's not a bad idea if you want to be an online teacher.
Work for yourself as a freelance online ESL tutor
The last choice is be a freelance online ESL tutor, but the bigger challenges exist as well. Selling your classes, designing the courses, and managing payment systems are all your things, although it's more likely to earn more good money. 
The requirements of teach English online from home Can you teach online without a degree?
The Essentials
100 hours (at least) of certified and internationally recognized TEFL/TESOL certificate is the necessary requirement. Obtaining specific certification of online English teaching is a better choose since it will prepare you to a virtual classroom or help you to be the brightest star among other people, so you may be easier chose by employers or students.
You can even record your hands-on lessons when applying for an online English teaching job, and share the best sample videos with prospective employers.
If you lack teaching experience, an online teaching job will provide you with a wealth of teaching experience that will make your resume more appealing. In addition, getting a college degree is mandatory for some online education companies, but not all.
What equipment and Internet speed do I need to teach online?
Most online tutoring or tutoring companies have their own software platforms, so you can teach online in a few simple steps. At the same time, you should be equipped with some specific tools to help your English online education run smoothly.
A steady and fast Internet connectionis needed for a beginner. For this, different companies have their own standard, but 10-15 Mbps is enough to meet most of companies requirement. Also, higher speeds are always desirable.

Many companies also require that you have a wired Internet connection (Ethernet) instead of a Wi-Fi connection.

A good webcam, microphone, and headset are needed, or even buying a pair of noise-cancelling headphones which helps you to have a class in a noisy place.

Choosing a video conferencing platform to conduct your course if you work as a freelance teacher. For instance, Skypeis familiar with most of people, and Zoom is another application that appreciated because of its user-friendly features like screen sharing. 
How much do online English teachers make?
qualifications and experience are two vital factors which will affect your salary. The starting price of an online language school is usually US$12 to US$21 per hour. Some companies also provide performance incentives or rising rates are also used by some company if you have worked with the company for a longer period of time.
While teachers who work independently on the online English teaching market can set their own prices (depends on the seize of class and the interests of the students), which always range from US$20 to US$25. The monthly income of an online English teacher ranges from $1,000 to $3,000 if you choose to be a full-time online teacher.
Ways to get an online English teaching job
Start looking for a job after setting up your credentials.
In order to get an online teaching job to work for a company, please follow online portals like the TeacherRecord Job Board for they will keep posting new positions for you to choose. Searching for online teaching positions and see if your qualifications and experience can meet the job requirements, and also check whether the salary and schedule is good to you.
Update your online teacher resume and send an application video to some companies which require for it, later a large number of recorded teaching demonstrations will there for you.
Usually within a week or two of submitting your application, you'll receive an online interview invitation from companies that are interested in you. Qualifications and experience are what you must introduce, and sometimes you may need to do an online demonstration course.
Working for a tutoring marketplace or for yourself, however, is a completely different game. Here, you try to get potential students by creating a teacher profile and often a self-introduction video. As there are plenty of teachers promoting their courses on the same websites, it is the most competitive, so having the best possible credentials, such as TEFL/TESOL certification specific to teaching online, will make your profile stand out.
it's utterly different if you choose to work as an online teacher for a tutoring marketplace or for yourself. Getting potential students by making an instructor profile and a self-introduction video are what you can try on the platform. Many academics promoting their courses on constant websites so that having the most effective attainable credentials like appreciate TEFL/TESOL certification specific to teaching online will build your profile stand out.
Starting your own online teaching business needs a website to showcase your services as a teacher and to manage the payments. Channels like social media is a great help for you to promote your services to potential students. And if you want to improve your business and marketing skills, TeacherRecord's 20 hours of teaching English online as a freelance course is a good choice for future teacher entrepreneurs.
Of course, keeping an eye on the dynamics and information about schools, jobs, or marketing platforms to make sure they are credible. More specifically, you can learn more by checking the comments or asking other teachers for experience.