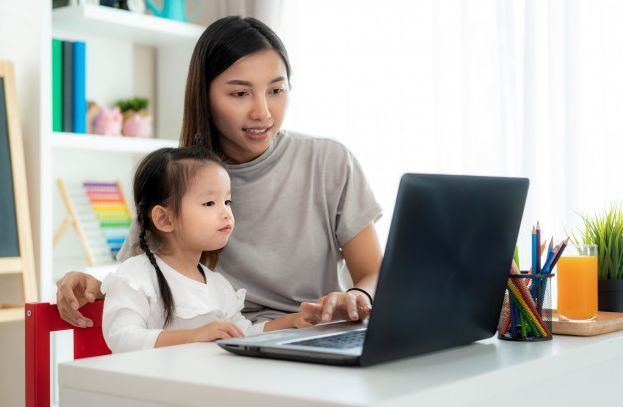 During the epidemic of the COVID-19 virus, I had a unique experience of teaching English in China. In addition to personally experiencing the influenza epidemic, I was also one of the first foreign teachers turning to online teaching.
Teachers have been encouraged to integrate technology into our classrooms to better prepare learners in the 21st century for many years. In fact, most teachers (including myself) never thought that technology could fully transform offline classes into online classes.
There is no doubt achieve it takes time, but the virus does not care. Without any preparation, I did it by learning new skills and proper teaching methods suiting online teaching.
In this article, I will provide you with some useful means on how to bridge the gap from classroom teachers to teaching online. 
And you can find out more online teaching job opportunities at the job board.
Let's do it!
Embracing the new reality
The COVID-19 virus has affected different people from all over the world. Challenging online education has forced teachers to redefine teaching methods. I have been teaching in an international school, and we begin to implement online education at the beginning of the new semester.
Depending on the school's resources and teaching platform, there are differences in online classrooms in different schools. In order to ensure that you can use the teaching platform properly, you need to communicate with the management to avoid situations like students can't view your teaching content on the web.
Of course, there are many different online technical tools available to us, but in order to allay the concerns of students and parents, please be consistent with the school as much as possible.
Connecting to your support systems
The transition to online education is not easy. We often think about questions like, "how should I do a good job of online teaching?" Or "can I be a successful online teacher?"
Don't worry, you're not alone in this predicament. Sharing your successes and failures with your colleagues can lighten your psychological burden.
Online teaching can make us feel overwhelmed, but we also seem to forget the fact that it is not a shameful thing to ask for help.
Conversations and dialogues with other teachers have enabled me to acquire new teaching skills which help to enhance my students' classroom experience. Working with colleagues made me realize that no one is perfect and that excessive anxiety is unnecessary.
Don't be afraid to ask for help from your colleagues, and don't be stingy to give a helping hand to your colleagues. Remember: you fight together!
Empathize with your students
Online teaching is a stressful job for parents of young students because they have to help their children manage all different courses while ensuring that they can master new knowledge and complete learning tasks.
This makes me worry about the specific situation of students, those who do not have the help of parents or lack online class tools, such as laptops and the Internet, how could they be able to take classes online?
In addition, I have tried to provide students with the same resources and assigned the same amount of assignments as usual (offline classroom). But soon, I found that the students began to feel overwhelmed because due to too much homework. An online survey shows that it takes students a few hours longer to finish their homework than usual, which surprises me greatly.
As a result, I began to reduce the workload (in the case of quality assurance) and provide more specific and effective feedback to my students. And I found that the quality of students' homework and classroom participation has obviously improved.
Therefore, I suggest you find out the real learning situation of the students through the online survey, and make adjustments to the inappropriate teaching plan.
It is difficult for teachers, students, and parents to move the classroom online, even if they face different challenges. Parents, especially those of younger students, must help their children manage different courses, such as downloading electronic homework and making sure they finish it carefully. Of course, this is for lucky students who have responsible parents. I wonder, what should those children who do not have the help of their parents or lack the equipment to attend classes?
When I started teaching english online, I tried to give them the same amount of learning and tasks as they did in the classroom and had strict requirements for the quality of their homework.
But when I found that students began to feel tired and depressed about the heavy teaching tasks, my state of mind changed.
So I sent online surveys to students to understand their specific situation. The result surprised me! Almost all students spend a few hours more than usual to finish their homework.
As a result, I changed my teaching strategy to reduce their workload on the premise of ensuring the quality of teaching, and at the same time send more effective and useful feedback to my occurrence.
The result of the change also surprised me. The quality of students' homework has been significantly improved, and more and more students begin to participate in classroom activities.
With this experience in China, I highly recommend that you send your students an online survey to help you understand the real situation of your students in the class, and then adjust the teaching plan or method to make them better participate in online teaching.)
Using online tech tools and apps
Here are some of my favorite tech tools with guidance from my school. 
I am going to introduce two categories: asynchronous learning (non-live classes) and synchronous learning (live class sessions).
Asynchronous learning:
You are able to create screencast videos with its screen recorder, capturing your screen, adding a webcam and using narration to customize your video. Besides, upgrade to cloud hosting and get unlimited ad-free uploads and collaboration tools for your team what this app provides for you.
CK-12
CK-12 has a huge resource of online reading and video, covering almost every subject and every grade. At the same time, it will be a powerful helper for EAL students, because all articles can be translated into their mother tongue, and the video also has subtitles in various languages which makes it easier to understand the contents.
Synchronous Learning:
Microsoft 365

 & 

Microsoft Teams
I can meet with students on this platform and giving them classes.
Students can submit their work, and I can provide them with written or oral feedback. Setting up discussion boards for students to comment on each other's work like the offline classroom can also be achieved.
Zoom
Zoom Rooms is the original software-based conference room solution used around the world on board, conference, huddle, and training rooms, as well as executive offices and classrooms. It is another online meeting option, where you can view all the students or collaborate in groups.
Integrating classroom best practices.
Encouraging students to work as a team is one of the important matters we all make efforts to do in class. However, it is difficult for us to maintain normal order in online classes.
The key to solving this problem is to integrate traditional classroom strategies into online teaching.
Encouraging smaller groups for discussion.
Using the above tools allows me to organize group discussions among students (usually 10 to 15 minutes), but when I conducted an online survey of students, I found that discussions in smaller groups were more useful and effective since everyone has more time to express their opinions.
Utilizing discussion boards.
The discussion board gives students the opportunity to view and comment on each other's work. All I need to do is give instructive advice, such as telling them how to give positive and useful advice to their classmates.
Making sure tests are secure.
How to ensure the safety of the test is another big problem that the school faces. (That is, how to prevent students from cheating in the exam.)
One of my own solutions is that, besides writing the test paper, students have to raise questions and give their expected answers, and explain the relationship between it and the standard answer. Their scores are determined by the difficulty of asking questions. Synthesize the different questions raised by the students helps me to create multiple versions of assessments to increase the difficulty of looking up and sharing answers.
Do your best.
Is it worth to teach English online? No, it is tough but I look at this experience in China as a parallel to my first couple of years as a new teacher.
I was not perfect and I was not confident, but I cared for my kids. If you communicate empathy to your students and can put yourself in their shoes, they will reciprocate.
Know that you will only get better as time goes on, and once we are reunited in our schools.
We will have a whole new set of skills that will allow us to integrate technology in our classrooms and truly be able to prepare our students to be 21st-century learners.
And, if you need a little more help, there's great training available for teachers around creating effective online classrooms for your students.
There is no doubt that online teaching is not easy, and its difficulty can even be compared with that the difficulties I met when I was a new teacher. No one is perfect, but I have confidence and care about my students. Put yourself in the position of the students and show sympathy for them. They can feel your love.
By the time the epidemic is over, we will have a lot of new skills that can help us integrate technology into the classroom. So as to create a better learning environment for our students.