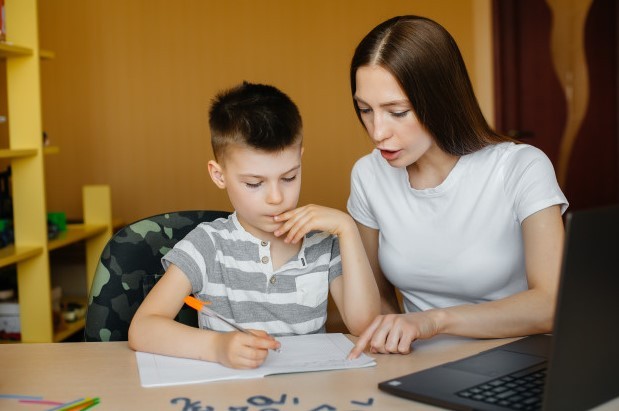 If you are a mother with a child aged 0-12 months, you are likely to face difficult choices:
1. Be a full-time housewife
2. Go out to work and hire a nanny to take care of young children
3. Work from home + take care of children
Choose the first option, But I don't want to rely on anyone (even my husband) to feed
Choose the second one: But I don't want to spend almost all my salary on hiring a babysitter, and I'm not at ease letting strangers take care of my child
Choose the third one: Is it possible? (Yes!) Start to apply to teach online now.
So, what kind of job allows mothers to work and take care of their babies at home?
The answer is, teaching online!
Even though not everyone can get an online English teaching job, it's easy for stay at home mother to meet the job requirements.
ü  A native English speaker
ü  Have a Bachelor's Degree in any subjects (or above)
ü  Have teaching experience (preferred)
ü  Have teaching certificates like TEFL & TESOL (preferred)
(Notes: You'd better choose a well-known and reputable online educational company, which always helps teachers to prepare the required materials and provides a higher salary and good management.)
Why a stay at home mother is allowed to get an online teaching job?
1.      Work from home
As long as you have a computer (equipped with a microphone and a micro camera) with a stable network, you can work from home (or other places) instead of going to the office and not being able to take care of your child.
2.      Flexible working hours
You do not need to work at a fixed period of timeам but give the classes in your spare time. (Like at night when your child is sleeping and on weekdays when your husband is staying at home.) (As for myself, I always worked mornings and evenings and about 12 hours a week when my daughter was just 6 months.)
3.      High salary
Take myself as an example. I have been working for a Chinese online English teaching company and I earn 18-25 USD for an hour (on average). Due to the great demand for English teachers in the Chinese teaching market, most of the online education companies in China offer a high salary, as well as other, befits to attract capable teachers. (I took a part-time job in a Pizza shop in California, and they just offered 8 USD/per hour!)
4.      Bonus
I cannot say that all companies are like the company I work with which also provide a platform for teachers to write blogs and pay us the manuscript fee. How nice it is!
If you don't have any teaching experience (or online work experience), check our blogs where there are many blogs about online English teaching experience and skills, as well as a great number of online English teaching jobs!