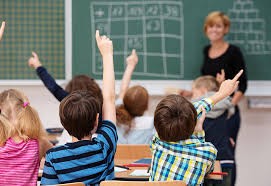 When expats teachers come to China to teach English, they always try to apply new teaching methods to ESL classrooms and bring new learning experiences for Chinese students. But sometimes, not all "new Western-style" teaching models are suitable for Chinese students. Therefore, ESL teachers should formulate effective teaching methods to motivate students based on the personality and characteristics of them. I will introduce some commonly used methods for ESL teachers' reference. 
[Recommended Reading: Tips to Build A Good Relationship with Your Chinese Students ] 
1. Use competition
China's huge population makes everything scarce, whether it's a bus seat or a place at university. It seems that all Chinese people participate in various competitions every day, and students are no exception. Cooperation is certainly very important for Chinese students, but sometimes it is too gentle to some extents. Chinese students are more accustomed to compete with their classmates or peers, getting the highest scores in exams, becoming champions in competitions, and even becoming teachers' favorites. Therefore, ESL teachers can make full use of this feature and replace some classroom activities with competitions, which can effectively improve students' classroom participation.
2. Praise your students
As an ESL teacher, you will realize after giving a few lessons that the Chinese classroom is much quieter than the Western classroom. The fundamental reason is that Chinese students are unwilling or even afraid to ask or answer questions raised by the teacher since they are afraid of making mistakes in front of the class and being criticized or ridiculed. Hence, to change this situation, ESL teachers need to encourage students to speak, give them praise, praise them for answering questions correctly, and show appreciation for their courage to speak out. The more you encourage them, the more motivated they are to try and participate.
3. Consider their interests
Sometimes in order to master a new language, ESL courses have to cover some "boring" topics. However, a good ESL teacher with strategies can always make a "boring" class interesting. It is a good way to consider using students' interests and hobbies in the course. For example, if they like role-playing, you can ask them to simulate a real scene with those "boring" vocabulary and sentence patterns. Learners will not like topics and courses that they are not interested in and you need to figure out something.
4. Know them
Most Chinese students will be interested in their foreign teachers, including your country, your culture, your interests and even the reason you choose China. So, tell them about yourself, showing them pictures, telling stories, and being willing to answer their questions. At the same time, encourage students to tell you about more about them which will help you gain a better understanding of students. Through introductory and relaxed dialogue, teachers are more likely to win the trust and respect from students, and it is also conducive to establishing a good teacher-student relationship. If they like you, they will also like your course.
5. Use group activities
Only competition without cooperation cannot create a harmonious classroom environment, which may also cause conflicts between students. Furthermore, some shy students will opt out of the competition in order to avoid being prominent in the crowd. Group activities not only give everyone a chance to speak, reduce the pressure of competition, but also allow students to learn group cooperation and increase classroom participation.
You may also check here to find TIPS TO ENGAGE "RELUCTANT" STUDENTS INTO THE ESL CLASS