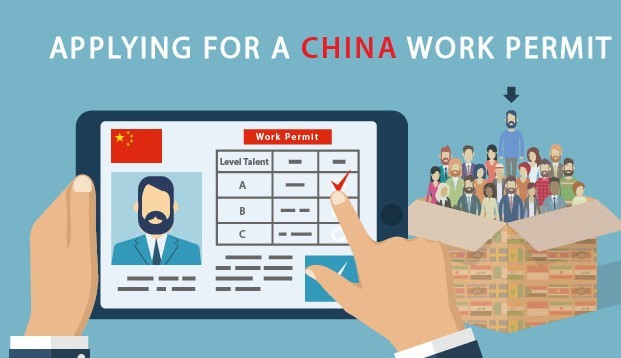 Without any exception, all foreigners who want to work legally in China need to get a work visa. The process of applying for a legal work visa seems complicated and cumbersome, especially for foreigners who apply for the first time.
This article will provide you with effective guidelines to help you successfully obtain your work permit.
1.

    

Eligibility for Applying for a Chinese work visa
Three types of applicants for employment:
Category A: Foreign talents with an annual salary of more than 600,000 RMB (encouraged)
Category B: Certain majors (limited)
Category C: No major (limited)
Meet at least one of the criteria
Ø  A bachelor's degree (or above) + 2-year working experience
Ø  Working experience in the technical field + international technical certificate + Monthly salary is not less than 2.5 times the local average salary
Ø  A foreign language (teaching mother tongue) teacher + a bachelor's degree (or above) + 2-year teaching experience (full-time)
Ø  Graduates without teaching experience but major in education, teaching and language, or have a recognized teaching certificate (like TEFL)
Ø  Get more than 60 visa points 
Ø  Graduates without 2-year working experience but have a bachelor's degree (or above) and work in the Shanghai Free Trade Zone or Shenzhen Free Trade Zone
2.

    

The Required Documents
Ø  Passport information page + copies of previous Chinese visa
Ø  Resumes/CV in English and Chinese
Ø  A signed a labor contract
Ø  Reference from your employers (to prove that you actually have 2-year working experience in the field
Ø  A digital photo with a white background (420 x 560 pixels)
Ø  A copy of the Commitment Letter of Physical Examination
Ø  Police closure certificate (PCC)
Ø  A copy of No-Criminal Conviction
Ø  An original Bachelor's degree or above (diploma)
3.     Your company will help you obtain a "Foreigner's Work Permit" in the Service System for Foreigners Working in China (about 25 days). The company staff will send the notification letter to your mailbox, and you need to print it out.
4.     Z-VISA
Ø  Bring the notification letter and passport to the visa center/Chinese consulate/Chinese embassy (in your country)
Ø  Other documents required by your country/region, such as application forms and flight information.
(If the application is approved, you will get a Z-VISA valid for 30 days)
5.     Residence permit
Type A applicants: 2 years (unlimited entry)
Type B applicants: 1 year (unlimited entry)
Required documents:
Ø  A Residence Permit Application Letter (from your company)
Ø  The original document and copy of the company's business license / the company's approval certificate (for a foreign company)
Ø  The notification letter of Z-VISA
Ø  The original document and copy of your medical report
Ø  The original passport
Ø  The original document and copy of the Temporary Registration Permit (you will get one after arriving in China)
Ø  A Residence Permit Application Form
 (It will need 8 days to process these documents.)
6.Your company will apply for a work permit for you and it may need 5 weeks.
Notice:
Ø  You need to renew the B-type work permit within the validity period of no less than 30 days, otherwise, you will repeat all the steps like the first visa application!
Ø  Your passport must have at least 1 year of validity and enough pages.
When you are clear about the application, but you are worried about the travel ban during a pandemic, well, check this article for more information.